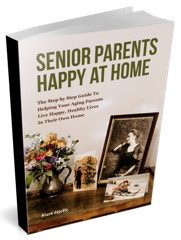 I want to give you my book called "Senior Parents – Happy at Home."
Let's face it…caring for Mom, Dad, or another loving Senior in your life, can be difficult. In fact, studies show that it is just as stressful for you, as it is for your Senior.
This book walks you through, step-by-step, everything you need to know to care for your senior well through their final years.
It includes:
How to have an open discussion with your parents about their care plans
The Biggest Reason to Start Planning Early
Advance Planning (Legal, Insurance, Financial, Government Assistance Programs, and Funeral Pre-Planning)
Evaluation – should your Senior live alone?
Conduct a home assessment.
Managing your Senior's medication.
58 Ways to Ensure their Safety.
When Your Parents Should No Longer be Driving
Different Types of In-Home Services
When it's Time to Move Your Senior to a Facility
The Final Days
PLUS – there's a great resource to download immediately. It's my special "Checklists and Evaluations to Keep Your Seniors Safe at Home."
As an added bonus, you'll get immediate access to my special training series called "Keep Seniors Safe." (Watch for emails with links to the training.)
I'm dedicated to helping Seniors and their families – and that's why I want to give you a copy (or copies) of the book, simply for the cost of shipping (just $5.95).
PS: If you'd like to order more than one book, please contact Kurt by email: kurt@safeathomehealthcare.com.